VALEN'S  CITY- Valencia, Spain
Imilchil, Morocco, High Atlas Mtns, 2160M
Flying into Mediterranean Valencia, in SE Spain, you are aware you've left small, dark Northern Europe. The land is big, bright, sunny, open, with cookie cutter towns that just end like pieces of cake. Everything is stylish in a good way:  the Spanish live well- a sense of style and care permeates everything- food, architecture, art- and it (especially Valencia) is quite cheap by Euro standards.
Arriving in Valencia (1.8 million metro pop.) in early January after -25 wind chill on the Eiffel Tower and wet cold cramped Amsterdam, was simply bliss- 14 degrees [editor: use symbol], sun, 19 the next day, with ripe oranges falling off the Plaza trees. I was at the Center Valencia, a big bright clean hostel right in the center of old town, by Plaza de las Virgens and the 1300's Serranos Tower (an old gate to the city), with narrow winding streets, brightly lit sodium lamp medieval buildings, big Plazas with fountains, and high church towers you can actually go up. Valencia was a Roman City- you can never get away from Rome- from 138BC, destroyed by general Pompeii only 58 years later in a civil war - and has an incredible long  convoluted history- Valencian is another language similar to Catalonian, and it was a semi-independent kingdom for much of its history, even became the capital of Republican Spain during the Civil War with Franco, and was the last to fall under his thumb. The old center is walking friendly- only took the 4 line Metro twice, once from the airport; and different walking routes tour the numerous grand sites.
49 beautiful elegant museums are about half free or only 1 or 2 €, a welcome change from Europe. The majestic 80's City of Science and Industry  has a raft of radical 1968-ish seashell spaceship buildings: an opera house, science museum, IMAX theatre, and huge oceanographic center.  There is a neat Modern Art museum, IVAM, with 4 famous Spanish painters/sculptors; the Bellas Arts museum has the entire history of art in Spain- both are free and open through siesta. There's a large bullfighting ring by the train station, but saw a museum to this strange savage sport- asked them if the bull gets a reprieve if it wins- that is kills the matador or picador, (who sticks in these barbed spikes without a cape or any defense) which is quite common- almost all the famous ones are gored to death within 2-20 years. Go Bulls!  Valencia isn't as spoiled as Barcelona, which was half ruined by the fame of the '92 Olympics. Although this city is about the same latitude as New York City, it is a place without winter, and one of the warmest places in the Med.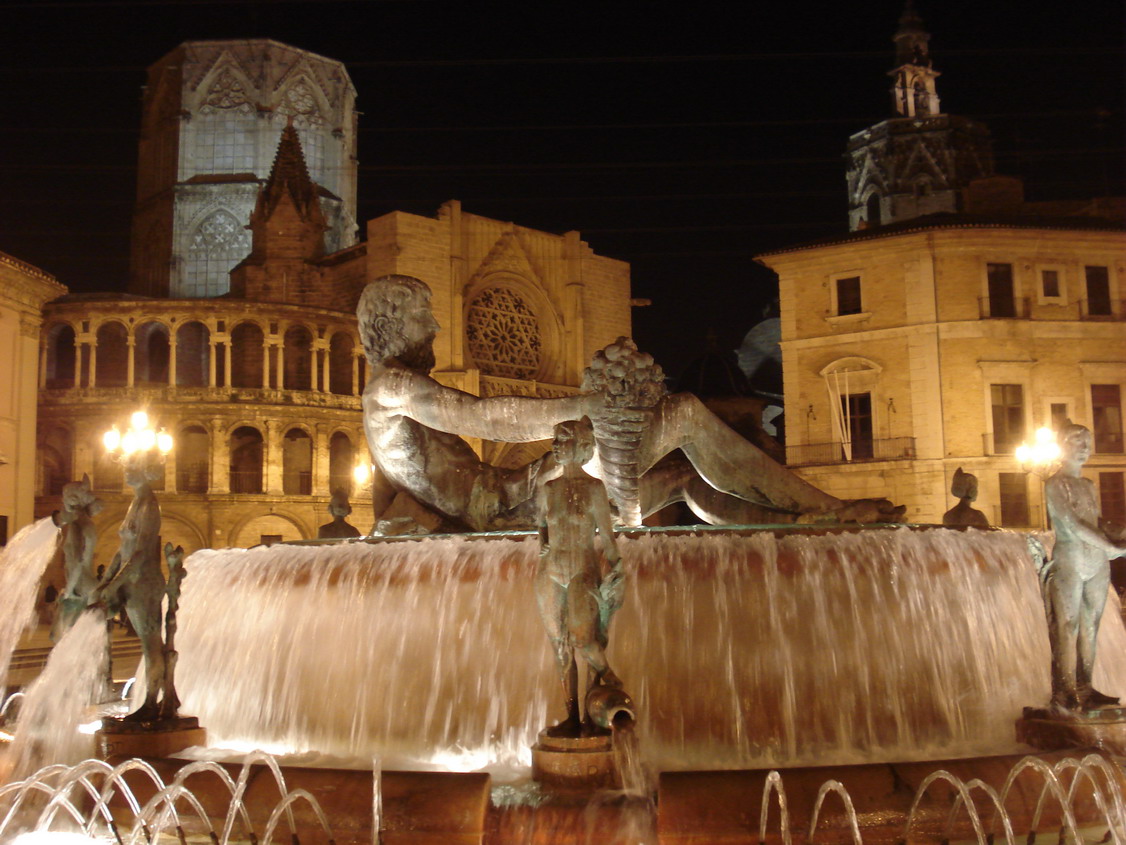 One can go into a restaurant without some twit waiter descending on you - you can stroll in, check out people, study menu, and plop down- they will come to you when you want and not try to get rid of you when you hang around for an hour after you're finished. It's a relaxed class that Mexico also has. In Plaza de la Reina (of the Queen), a neat cafe had 20 different finger slice sandwiches (tapas) with shrimp and lettuce, slices of cheese, red peppers, and sauce, sausage and mustard, beautiful artistic things that one could take oneself out of the cases from the bar and eat at will- at the end they count the toothpicks and charge you- $2.25 each. At tapas bars, they give you them for free when you have drinks.  In the Carmen district hip little bars and cafes abound with relaxed fashionable young people.
Their famous dish is paella- yellow rice slow cooked with vegetables and chicken (or seafood); and horchata- a delicious sweet white vanilla/almond drink from the tiger nut. At the rice museum, they showed the technical processes of processing.  At the nearby beach, the Swiss-won Americas Cup  yacht race are held, a weekly Water Court orally decides water rights for the last 1000 years; and an amusement park ferris wheel spins.
The massive 1262-1660 Cathedral dominates the central Plaza de la Reina, with a 51M tower that affords a spectacular view of the city, and when the huge bell strikes, you can watch your neighbors' teeth vibrate. It hosts the claimed Holy Chalice of Christ's last supper, which Pope Benedict used in a 2006 visit. Next door is the ancient Basilica of the Virgin and La Almoina Archeaological Museum, which displays the excavated original Roman center and streets under a glassed ceiling one can view from outside. Another equally tall tower, the Santa Catalina, rises on the other side of the square. For 530 years Valencia was an Islamic city, part of the Moorish conquest that absorbed most of  Spain, and parts of the Islamic walls are preserved. The west-side Museum of  History of Valencia (there are 3) has a 4 hour walking tour of dioramas that showcase the people, dress, and activities of 50 era's in 4 languages. On the west side of the center, there is one of the largest covered Markets in Europe, and the plush Gothic 1500's Silk Exchange was the source of Valencia's boom and wealth in the 1700's
After a devastating 1957 flood, the Turia River (which winds around the northern part of the center) was drained, diverted, and turned into a huge park, chock full of botanical gardens,  museums, sports facilities, and bicycle trail. Bus 95 follows it from the Museum. of History to the City of A + S.
The world-famous Fallas Festival, with intricate 4 story puppets, historical local dress, and escalating fireworks displays, is held now, from March 1-19, with the orgy of explosions and final burning of the puppet/floats the last 4 days.
                --------------------------------------------------------------------------------------------------------------------------
Cheapo Ryan Air flies there from main Europe for peanuts, but be aware of the insane 15kg checked bag limit. From Moscow, Aeroflot or Iberia goes there.  The Metro runs right to the airport. Valencia + Spain observes Siesta: things are open 10am-2:00pm, closed 2:00-4:30pm, then open 4:30-8:30. This includes stores + gov. offices. A few museums stay open through siesta (grab the invaluable Tourist Guide to VLC  in English at the Airport or Las Reina tourist centers). The first night, I watched with wonder a long line for an special art show at 11:40pm. Dinner is wonderfully late: 9-11pm, so one can tour till you drop, return to hotel, rest, and then eat. Having colonizing 3/4 of a hemisphere, few Spanish speak English or anything else- bring a phrase book- it is a simple language, pronounced exactly as spelled.
Center Valencia, Calle Samaniego 18, 46003 Valencia, 34-963914915 (shared rooms 13-20€)
 Hotel Las Arenas Balneario Resort (on the beach); Calle Eugenia Viñes, 22-24  46011 Valencia , España  34-963-120600   Double 166,62 € - 196,40 €
Astoria Palace, Pl. Rodrigo Botet 5 (center), 460002 Valencia, 34-963981000
Michael Hammerschlag's (Hammernews.com) articles have appeared in the International Herald Tribune, Seattle Times, Providence Journal, Columbia Journalism Review, Honolulu Advertiser, Capital Times, MediaChannel, Scoop; and Moscow News, Tribune, Guardian, and Times.