TITLE:      ROMAN HOLIDAY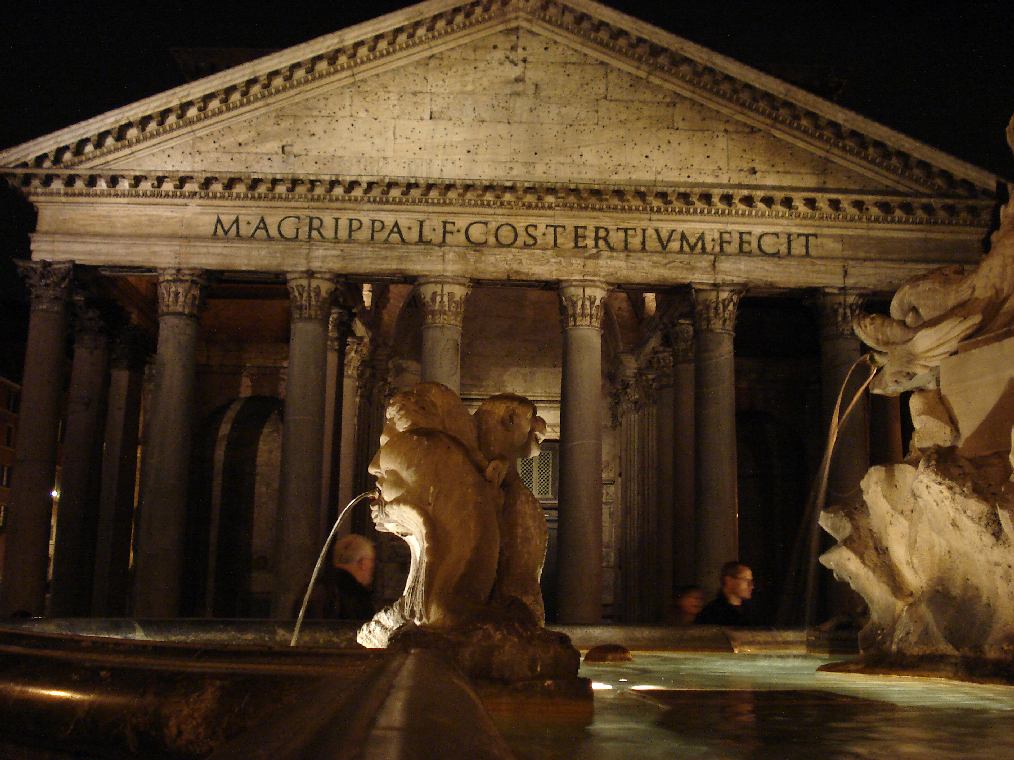 SUBTITLE:
    

THE LONGEST EMPIRE

PULLQUOTE: On Imperial Way stands the Coliseum, - a culmination of all their style and science in a perfect building, able to move 60,000 people in and out smoothly, and provide gaudy and grotesque entertainment for the masses, dozens of animals appearing as magic from giant elevators.

                               WHEN IN ROME

Tired of the dreary frigid onset of the third Rome's mud season? Get away- far away- to the 1st Rome. For years I toured Roman ruins from England to Hungary to Greece- now I was finally going to see the Eternal City, once before I die (at least). And ruins it has- everywhere, all the time- from the free extravaganza of the dozens of arches, columns, buildings of the Forum; to the Aqueduct and city walls streaking through much of the city, to the massive Coliseum (where up to a million people met their death in 330 years), to most perfectly preserved large ancient building- the Pantheon… Rome is magnificent.

Many places have had empires, including Russia/SU, the Greeks, the Mongols, the English, but the Romans take the cake for longevity: 500-700 years of domination of most of Europe, and parts of North Africa and the Middle East. 3 thousand years of history is splayed out over a manageably big city: Roman Kingdom (750-500BC), Republican Rome from 500BC-50BC, The Empire 50BC-450AD, Holy Roman Empire 600-1200, Renaissance rebirth (1200-1600), Explorers (1490-1700), Italian Unification (1820-1910, Fascist (1922-1945). It's a mad stew, with Christian churches cannibalizing and incorporating ancient buildings, and a dizzying array of overlapping layers of antiquity.

Pics- Copyright2019MichaelHammerschlag
But the gems are the preserved and reconstructed buildings of the Coliseum, Roman Forum, and Palatine- the contiguous hill that houses the immense palace of the Emperors. Head straight for Via dei Fori Imperiali where the treasures of antiquity line both sides of the street, the huge intact Trajan's Market and Column on the east with the columns of the Forums of Caesar, Augustus, Nerva; while the other side of the street features the massive Arch of Septimius Severus, the 8 remaining columns of the Temple of Saturn (497-42 BC: during the Dec. Saturnalia celebrations slaves and masters would switch places, feasts and gifts would be given- features adopted by Christian Christmas), the bizarre Temple of Antonius+Fastina/ Church of San Lorenzo 141/1601, and the 3 giant barrel vault chambers of the football field-sized Basilica of Constantine 318AD.
 These are all visible from the roads that bisect the Forum and surround them, so are 24 hours, but from 9-4:30 they are open and free to the public (except for Trajan's Market- 120AD, a huge warren of tunnels, viewpoints, and rooms with a fine museum 9:30-7pm, 6.50Eu- great for kids). The Romans great strength was civil architecture, while the Greeks are designated the founders of Western Civilization (and the Romans adopted most of their ideas), the Romans built the Cloaca Maxima, a huge underground concrete sewer in 600BC, hundreds of miles of marble aqueducts, moved millions of tons of rock to upper stories without steam, electricity, or hydraulic power, and developed a unique Roman style with the arch, vault, and dome. Rome fought a 120 year intercontinental war with Carthage while the rest of the world was figuring out how to make pots.
A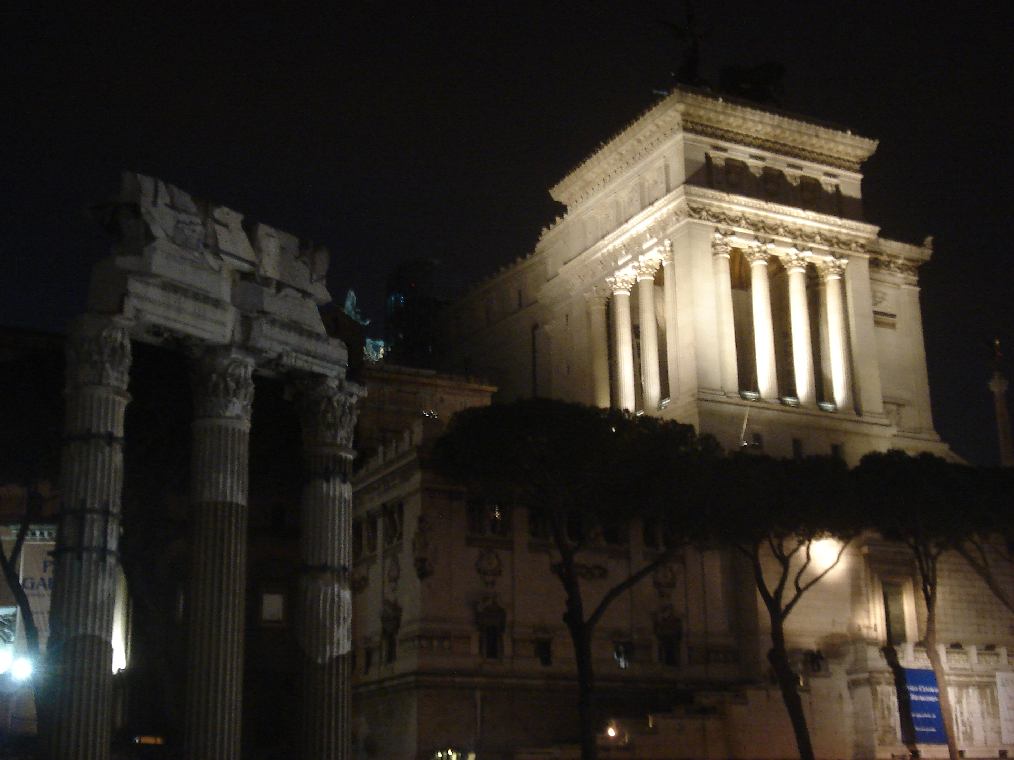 t the bottom of Imperial Forum Way stands the Coliseum, a sight so familiar you won't believe you've never seen it- a culmination of all their style and science in a perfect building, able to move 60,000 people in and out smoothly, and provide gaudy and grotesque entertainment, dozens of animals appearing as magic from giant elevators from the exposed 3 story halls below the wooden floor. A dozen sets of gladiators would fight at once in the bloody contests that were the free circus of the "bread and circus" sustenance for the masses; about 15-20% resulted in death. Despite being stripped of marble, statues, and stones by Popes to build St Peters or make cement, the Coliseum retains its imperial grandeur. Fights between "hunters" and wild beasts were a big entertainment- without guns, the lions, elephants hippos were more than a match for many men. Extensive museum displays line the inner corridors. Tickets for the Coliseum are 11 Eu, and if bought after 1:30pm, allow entrance into the adjacent Palatine hill the next day before 1:30 (+ vice versa)- the birthplace of Roma in 750BC, with the immense sprawl of the 7 story 400 year Emperors palace, started by Domitian. Next to the Coliseum is the imposing bulk of Constantine's Arch- 315AD.
"How are you this evening, sir? asked the doorman as I strolled by, and after the face-control vermin of Moscow, I remembered, ah yes, this is what doorman are supposed to do- meet and greet, not humiliate and degrade. Leaving Russia is always like leaving jail (which, let your visa run out, it is). The crook Alitalia manager tried to extort $900, then $450 from me for 18 kilos excess baggage, supposed to be $50 according to US reps for a trip started a year ago (+ written in record), + $150 by Alitalia's local rules, which I finally had to pay. Smart travelers travel light but I've never been one of those.
Change your rubles to Euros before you go- nobody likes them here- the only place that changes them take a whopping 32%, or use ATMs. Rome is expensive- especially for food in supermarkets- a cheap can of tuna is 100r, or tiny bag of potato chips 30r, or a candy bar in a kiosk 75r- brutal for Americans with our Bush-beaten dollar: $1.47/Eu, when he took office a Euro was 87¢. Romans admit the coming of the soulless Euro doubled prices from the colorful Lira, as prices rose to the most expensive EU countries. Hotels are plentiful and relatively cheap, but in meals- look for the multicourse package for 10-15eu, separately one can easily spend 50eu. Pizza joints are everywhere, sometimes 5 a block, but meat is rare (at least pepperoni), and is sold expensively at 12-15Eu/kg.
Romans are an open and friendly people and half speak some English, many very well. I speak butchered pigeon Russian, Spanish, school French, but little Italian- but it isn't a giant problem. Only Russian would be. I met 3-4 groups of Russians- almost all female, but they are relatively rare, so most Romans still think Russians are poverty stricken and the ruble untrustworthy. For 3-4 days a week ago it was sweatshirt weather: 14-17 degrees, but Dec can be wet and Rome, because it is a hot city (52° this summer), there is almost no heating anywhere, so you go from cold outside (5-14°) to cold church to cool museum. Bring a sweater or hooded sweatshirt. This is a great time to travel- no crowds, no waiting, no searing heat, no thieves, no rules. Rome is eminently walkable, with hundreds of piazzas (every intersection is a plaza), fountains, and columns; everywhere you go you encounter fabled sights from history, books, language, school, and movies: strolling towards a bus stop from the Pantheon, I blundered across the Trevi Fountain.
Ah, the Pantheon- from the outside reeking of the millennia it's seen, on the inside a reconstructed Renaissance church, with the only light coming through the round hole in the top. The rain water runs off the slight grade into channels at edge of floor, or is swept away from the hole by air currents off roof, depending on explainer. The hollow coffered roof is 142 ft high and 142 ft in diameter, supported by 6m wide walls. Just NW of Termini Station is the ¼ mile square Diocletian Baths- now the main Roman National Museum and Michelangelo's last project- Santa Maria degli Angela church.
St. Peters competes with Moscow's waxworks Lenin in macabre- the desiccated corpse of Pope John 23 is on display in a glass coffin (uncorrupted, said the church), and thousands of corpses are stuffed in niches in the extensive Catacombs outside the center, open for tours. St. Peters is an impressive place, but Issiakovsky Sober in St. Petersburg is still the most beautiful.
San Clemente (4th Pope, drowned off Crimea) Church houses a 12th century church, a 4st century church on the floor below, and a 1st century BC Mithraic Persian fertility cult temple on the floor below that. St. Cyril's remains were brought here or he is celebrated with a mosaic- I'm not exactly sure, I should have photographed the sign.. but if I had let myself get locked in, I could have have studied it in great detail.
 But once the votive candle and lighter/flashlight lush Karina gave me at the Americanski gave out, it would have been a long spooky night.
TRAVELERS TIPS:
FLIGHTS:  Alitalia - $575 RT for Dec 17-25, Aeroflot $486 same times,  both nonstop; LOT, Air Baltic, Belavia, Czech, Viva, Malev with stop (more $)
VISAS: Italy is one place that likes Americans- no visas needed for 3 months, Russians 2-3 weeks, relatively
easy  Italian Embassy: Denezhny Pereulok 5 (Arbat), 121002 Moscow  796-96-91 / 241-15-33 /241-15-34 Fax: 253-92-89,  embitaly.mosca@esteri.it , Mon- Fri 09:00-13:00/15:00-18:00;  VISA SECTION consitaly.mosca@esteri.it
Submitting passports: M-F 9am-1pm; 2pm-5
TRANSPORTATION:  1 day metro/bus/train pass is 4eu, 1 wk 16 Eu; Train from Fiumicino Airport to dntn 6-10Eu; Bus tkts- honor system 5am-midnt + nt lines; 2 Metro lines, A stops at 9pm, B till midnt; Dollar quoted best rentacar rates: 29Eu/day at Termini Station, Via Giolotti 34 (39) 840 705 506,  gas is >$7.50/gallon; Bicycle, Scooter rentals start at 10Eu/day at Cyclo Cavour 80, 6-45435799
HOTELS:  cheapo:  Cristina House, 65 Castro Pretorio, (39) 06-44704586, has 5 locations around 
Termini Train station with hostel room for 11Eu, rooms 55-70, with TV and free room service  breakfast; 
Positano Hotel, 49 Palestro (near Termini) offers same rates and is friendlier, ask for Javed
    mid:   Best Western, Palestro 19, (39) 6  4441483, 99Eu single, 169 double; Art Deco
    ritzy:  Forum Hotel, Via Tor de Conti 23- Fori Imperiali, (39)6-6792446     130Eu single, 190 double
              Overlooking Trajan's market + Forum.
BIG CHEAP STORE:   MAS in Vittorio Emanuelle Piazza (+Metro), Via Leopardi
TOURS: Discover Rome(.com) gives excellent tours of Coliseum, Palatine, + Forum 10Eu, (39) 06 45425436; 32 Eu to Vatican
INTERNET: joints all around Termini till midnight; 2eu/hr by 15 minutes
WIFI:  rare, there is a fascist law that all Internet use (or faxes) must show + record documents, so no one wants to provide it. But Sesquitos till 1am, near Forum on Cavour 318, has it but are jerks. Better- Tra la Verghe bookstore till 9pm, Viale Gorizia 29; or Agave Bookbar, 7a San Martino ai Monti, nr Cavour Metro till midnt, 06-4882134
PHONE: (39) Italy, (06) Rome landline; Pay phone take 5Eu cards or coins- very expensive to mobiles, press button to talk; LD Pay phone centers are all around Termini- get 10 cents a minute to Moscow or USA;
SIM: Italian cell Sims run 5-10Eu, Vodophone and Omni probably best service but 10-15r/minute; WIND manageable at 2r/min and 1 1/2r SMS w 5 cent plan
ATTRACTIONS:  Pantheon:  Piazza della Rotunda, Via Pantheon
                                    San Clemente Church(es): Via Labicana, Piazza San Clemente