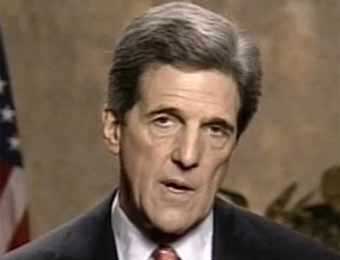 HOW KERRY LOST
by Michael Hammerschlag
HAMMERNEWS.com Barry Farber Talk Show on Subject - Feb 27
First he lost the Catholic vote. At 65 mil, they are 27% of the vote. Kerry got only 47% to Bush's 52%. If Kerry had even got a marginally respectable 55%- it would have been 5 mil more votes and definitely the election. John Kennedy got 78%. Kerry might have appealed to the Vatican to order that the Church stay out of politics, because I think Pope and advisors dislike Bush for ignorance and militarism much more than Kerry for abortion. Kerry could have also tried to enlist non-rightist Catholic leaders to support him for social justice (health care for the poor), but he avoided it like the plague, as if we were in 60's and (Catholic) religion was a negative.
Second he almost lost the Hispanic vote 53 to 44%. Gore had received a massive 67%. Bush had some natural advantages here, but there wasn't enough of an effort to specifically target them and their issues.
Third, Bush did 5 points better with women than he did with Gore- rather than confronting the misplaced paranoia about security issues and reassure security moms that they were a thousand times more likely to get killed driving to the store than in a terrorist attack, and then concentrate on home and health, Kerry (necessarily) kept yapping about how well he would defend the country.
Fourth, the ballyhooed youth vote (18-29) was much weaker than hoped- only 52% voted and they didn't constitute a bigger group than in last election (17%). They only voted 54-46 for Kerry (though 64% turned out in 10 battleground states). As an example of what's possible, Washington St. had an unbelievable overall 85% turnout.
Fifth, the passing of gay marriage in Mass. crushed Kerry's hopes, driving massive numbers of religious and conservatives, inc. Catholics and Hispanics to vote for Bush (esp. in southern Ohio) in the 11 states that had banning gay marriage on the ballot. They won a few battles, but lost the war for half of the rest of the country- now it's likely the extremists will force the dangerous precedent of a Constitutional amendment to ban it.
Sixth, he got trapped in the logical box of supporting the Iraq War, even if there were no weapons of mass destruction- then criticized only the conduct of the War, not the origins. This was due to wanting to support the troops and avoid seeming weak, but it opened him to the flip-flop charges. Nov 14 ADDENUM: Apparently Kerry never heard the second part of the question over the wind of the Grand Canyon, and aides were afraid to correct his answer lest they feed into the flip-flop charges.
Seventh, he ignored fervent advice to attack Bush about his LIES, and tried to be statesmanlike and speak to the best in America, as Bush cut his legs off with savage coward and weakling attacks. It would have exposed the truth about Bush "values", created great discomfort with Bush on a moral plane, inoculated JFK from many of the vicious lying attacks ("There he goes again."), and won him election, I'm absolutely convinced. A liar can't be a good leader, can't have good values, can't be trustworthy or believable. The Repubs play politics as war, and the Dems play it as sport- the Repub attack machine is massive and reliable; the only way to deal with it is to shell it into rubble with their own crimes. Defending attacks is a losing strategy. Rove isn't so much a genius, as a skillful character assassin: slandering the opponent is how he wins every race. After years of inundation with propaganda on Iraq, 46% of the 2004 voters think the Iraq War has made us safer, a stunning level of stupidity and delusion. That had to be drummed out of them. Howard Dean would have cleaned Bush's clock on that issue alone. This election was going to be decided on toughness; to prove himself able to deal with Bin Laden and defuse the fear Bush promulgated, Kerry had to point at Bush and declare, "LIAR" (like a prosecutor).
LAST: Maybe Kerry DID WIN. Though the magnitude and wide sweep of the Bush victory would argue against fraud, that's not necessarily so. If there was widespread electronic machine fraud in the 30% of the country that used them, we probably will never know. The only indication would be vastly different exit polls, which, oh, happened everywhere. The Dems did everything right in getting out the vote. All 4 makers of voting machines have deep connections to the Republican Party and Bush Administration. If the machine chip cards were programmed to delete every 10th Kerry vote, then swapped after the election, or if hacking existed at state levels- it may be impossible to prove, since Repub Sec. of States' will resist any investigations till the cows come home. In Ohio, a computerized machine reported 3893 extra Bush votes in a 638 voter precinct at the New Life church near Columbus. Florida, where 920,000 new people registered, was the most suspicious. Bush won by 381K in a state that was dead even. In Fl. Baker Co., although registered Dems outnumbered Repubs 69% to 24%, they only voted 22% for Kerry. 17 counties have similar anomalies, though some of this is Dixie Dem conservatism. In Broward Co., where the President's brother fired the fiery Dem supervisor, 60,000 absentee votes were mysteriously lost. Kerry recieved 10,810 votes less than the FL Dem Senate candidate, Betty Castor, whereas Bush got 283,000 more than the Repub one (who barely won). Researchers at the University of California, Berkeley, said Nov 18 that they have uncovered statistical irregularities associated with electronic voting machines in three Florida counties that may have given President George W. Bush 130,000 or more excess votes.
How can results be a duplicate of 2000 (with Kerry picking up NH and losing NM + IA), when Bush gleans 4 million more votes? If so, he had to win more states. Where did these 4 million votes come from? Allegedly the result of massive turnout by the "faith-based", they seem to be concentrated in about 8 states: Tx, Ok, Tn, Al, Az, Fl, Ga- all well controlled by Repubs, but Bush did better everywhere. How can there be 8 hours waits in Ohio when only 20% more people are voting? Ohio Sec State (and Bush co-campaign manager) Kenneth Blackwell was very determined to give Bush every advantage: by permitting the 3600 Repub voter challengers (which were allowed by a 2002 Bush-appointed judge at 3am Election Day after 2 federal judges had banned them the day before), limiting the number of voting machines (2000 withheld) in Dem areas, and enforcing the idiotic 11 day wait to start counting provisional ballots- around 155 thousand, likely vastly Dem, since these were the results of the challenges.
The 11 day wait made any challenge by Kerry an untenable 2 week affair instead of 2-4 days. Award winning reporter Bob Fitrakis of FreePress.org said the wait at 8 Columbus precincts he attended were over an hour and a half minimum and well over 2 1/2 hours when busy. He estimates "10,000 gave up and went home in Franklin Co. alone" (as well as in Florida when confronted with insane waits on Monday when they opened only a few polling places). Similar huge waits were reported in Cuyahoga (Cleveland) and Summit Co. (Akron), due to consolidation and reduction of precincts by as much as 48% by the Repub Ohio legislature in major cities. Across Ohio, perhaps 50,000-80,000 gave up and didn't vote. One report claims 93,000 more voters voted than were actually registered in Cuyahoga Co.. The 92K rejected ballots are now going to be examined in an official recount paid for by the Green and Libertarian Party. There were also uncounted absentee ballots in the 88 OH Counties. Taken together with 92,000 "spoiled" punch card and optical ballots (which they were never going to count unless forced to) and the 155,000 provisional ballots, these were enough to maybe overcome Bush's 136,483 lead in Ohio and hand the Presidency to John Kerry. OHIO SoS RESULTS
Michael Hammerschlag's commentary and articles (http://HAMMERNEWS.com) have appeared in Seattle Times, Providence. Journal, Columbia Journalism Review, Hawaii Advertiser, Capital Times, MediaChannel; and Moscow News, Tribune, Times, and Guardian. He's been a TV reporter, foreign correspondent, and produced documentaries. He reported on the media savaging of Howard Dean, and had the first big scoop on all the media mistakes on Election Night 2000.