A  TALE OF THREE WORLDS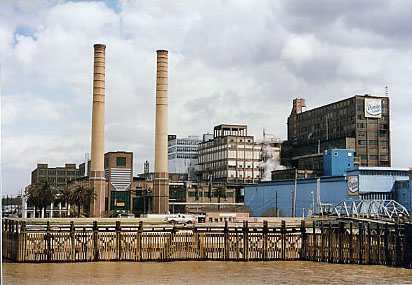 Skullduggery in the Sugar Business
                                                                by  Michael Hammerschlag
What happens
when an Imperial British commodities giant buys a Ukrainian sugar company, staffs it with Poles, takes a 25% Ukrainian investor, and rebuilds the whole thing? Seemingly, a mess.
Domino Sugar Plant --
ED&F  (Edward Desborough + Frederick) Man company is the biggest to third biggest supplier of sugar, coffee, molasses, cocoa, alcohol in the world; with 5000 employees in 74 countries going all the way back to 1783, when they supplied rum to the Royal Navy. In 2007 they bought the idle Zaselski Sugar Plant from Simeks in the south central  Ukrainian town of Pervomaisk, near the ship building city of Nikolayev  (Mykolayev in Ukrainian) for $7 million, with a 24% stake held by Ukrainian Co. UPK, and set about renovating it as the Ukrainian Sugar Company Ltd. (USC). Their first surprise was that "the factory and equipment  was in a poorer condition, old and worn out", according to Man Eurasia director Edward Magiera in an interview with Ukrainian Image magazine editor Sean Dindar May 5th, and that a 1½ km railroad needed to access the plant had been separated from the deal. "That was owned by another sugar company- Delfi," said a lawyer overseeing the investment for TEKT company, Anastasia Tido, which bought its subsidiary UPK's 25% stake in Feb 2009, including Delfi's railroad. In a written response USC claims, "Several dramatic discrepancies were discovered … (in) pre-sale declarations made by the (original) seller."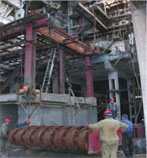 USC Factory
For their part UPK/TEKT claims that Man vastly overpaid for the replacement factory- a used one from its own Irish subsidiary, for which Man spent some $25 million, and received some compensation from the Irish government for disassembly. "It should have cost $15 million," says Tido; indeed the Man estimate in the original partners agreement was $15-18 million. "Once we had to replace some equipment, we decided to upgrade the whole factory, " explains Magiera. "All used equipment, not new," gripes Tido. Altogether, Man says they spent over $30 million upgrading the plant, "making it probably the most modern sugar plant in Ukraine", which is to process beet sugar from local farms- under 50km, (where they are investing $2-3 million), and also make pure sugar for export from imported raw stock. Sugar production in Ukraine has dropped by about half since it reached 4 million tons in the boom year 1991 of the Soviet collapse (when I was also in country). In a letter to TEKT, USC Chairman Lucjan Lukasik, is curt and dismissive:  "These allegations and accusations were investigated by the Company's Board and found groundless."     
The USC's management team is all from the Polish subsidiary of the EDF Man company (general director Brezhezinskiy),  presumably better able to manage the freewheeling and sometimes corrupt ways of  Eastern Europe. But were they seduced by them, as TEKT claims in an incredible story? Man's great "innovation" for the Zaselski plant was to convert it to coal from natural gas, to defray huge price rises as Russia demands a world price for gas. Not just any coal, but below the lowest grade lignite or brown coal, according to the coal contract. But what did the managers actually buy for $2 million? "An empty mixture of dead rock… sand and stones, instead of black coal," says Tido, "They have been trying to light the boilers in the plant for several weeks and they can't."  The 20,000 tons of "coal" reputedly doesn't burn in several tests in June- an obviously not so hot deal. A team of British engineers and Polish reps visited the plant in the third week of June to see what the problem was and fix it, but were not successful. USC didn't reply to these allegations, citing "corporate confidentiality". Further, TEKT claims the types of  boiler installed can only burn high quality coal not mined in Ukraine, and that the centrifuges essential to separate sugar were damaged in transit and are inoperable.
Seemingly warm letters between Tatiana Koleoshkina and Magiera in 2008 have him acknowledging disquiet at the USC summary dismissal of the 2 UPK board members, and he claims to be considering "some changes" in the management team on May 5th, but in the next day's general shareholder meeting nothing was done. TEKT claims 2 workers lost their lives and others were injured in the renovations because of unsafe work condition due to carelessness and incompetent management. "Health & Safety… is the most important item on our agenda," says USC, "however the victims were not our employees, but rather subcontractors."
Man dealt with several attempts by UPK to sell their stake in summer and Christmas 2008, for which, exercising it's right of first refusal, Man offered 20% above the original price, despite the economic crisis in the second period. "If they were very unhappy with us, they could have sold their shares to us," says Magiera.  But with the renovations, the actual market value of  UPK/TEKT's stake is significantly higher.  "They refuse to supply us with any documentation!" (on the factory or equipment), complains Tido, an obvious legitimate right for a 25% owner. "Are you suggesting that this company TEKT has happily purchased shares and has no idea what they purchased?" confirms Magiera slyly.
The privately held ED&F Man (agricultural, there is a separate stock company- Man Group) is famously secretive- when contacted in London, their response was several times, "We don't talk to the press." Quite incredible for such a huge and essential food merchant- in its main products: sugar & coffee - the largest dealer in the world. USC and Brezhezinskiy also refused to answer questions, except in writing, which were provided.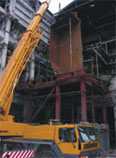 Primarily a distributor and refiner of sugar, the company's plans to import and refine raw sugar at Zaselski for export has hit a big snag. Magiera elucidated: "Currently it is prohibited in Ukraine to reprocess sugar for export (tolling) under the crisis legislation… I assume that good sense will prevail in that.. the law will probably be changed in that it does not actually hurt the domestic industry at all… But at the moment that is a serious issue." Ukraine is entitled to import 250,000 tons of raw sugar duty-free since its ascension to the World Trade Organization in May 2008, a fact Man was relying on to make the plant profitable. The legislation comes from a fear of leaks of cheap foreign processed sugar into the local market, rather than the local export destination of Russia. "That seriously impacts the USC business (model)," says USC. Tolling involves paying for the reprocessing by granting the factory a portion of the finished sugar. "If tolling is done properly, there is no problem," says a local agricultural business expert.
Desperate for information, UPK/TEKT called an Extraordinary Meeting of the Participants  in April, where they attempted to get the board and accountants dismissed, but Man said it violated all the rules for such a meeting and presented with very short notice, ruled it illegal. Man has proposed to increase their investment by $5.28 million, a right it has in the contract, and TEKT must come up with $1.76 million to avoid dilution of their 25% stake on the day the company is registered, but TEKT is worried some of the original moneys have been wasted or stolen and that further investment must be preceded by the full release of plant specifications. The project is already a year late and market conditions have significantly changed.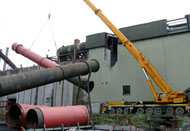 And now we return to the railroad. Delphi-C, now owned by TEKT, wants payment for it (and 58 units of equipment at the plant they claim ownership of), not in any sale, but in a long term lease, not too appealing to Man. "USC apparently decided to not pay for it at all and is using this railroad without permission," TEKT complains. "This has been brought to the attention of  the chief of  Kherson District railroads." So apparently  Man  USC is adapting to how business is done in Ukraine. "It's a very different business culture (here)- we tend to look at things very long term- some countries, especially in the CIS, expect dramatic returns," says Magiera." But short or long term, first, the coal must be able to burn.
The sugar industry in Ukraine is facing consolidation of the 120 companies left after 2004, because of the greater efficiency and economy of cane sugar, as opposed to that grown from beets; the pressures of the economic crisis; and third world competition.
Michael Hammerschlag has written commentary across 19 time zones and spent 3 1/2 years in the CIS. He predicted the worldwide economic crisis in March 2008.